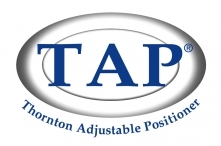 Does snoring or sleep apnea keep you up at night? The Thornton Adjustable Positioner (TAP) might be your key to a snore-free, restful night of sleep. It treats sleep-disordered breathing without the need for surgery, a CPAP mask, or medication, and is recommended for use by the American Association of Sleep Medicine (AASM).
The TAP appliance is non-invasive and fully adjustable to create the jaw position that best treats your symptoms. The device holds your lower jaw in a forward position so it does not fall open during the night and allow the airway to collapse.
The TAP is clinically proven to treat high upper airway resistance syndrome as well as all levels of obstructive sleep apnea, including severe sleep apnea.
Why choose the TAP?
Comfortable, custom fit
Durable construction
Easy to use
Adjustable while in the mouth
Patient can adjust at home and achieve maximum treatment results from night to night
Smaller and less bulky than other oral appliances
Convenient for travel
No masks or straps