Anna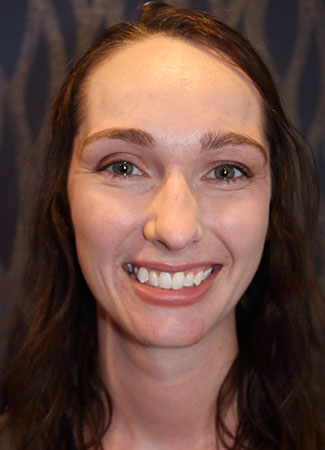 Registered Dental Hygienist
I love providing a service that helps improve a person's oral health and quality of life. I really like getting to know patients and do my best to meet their individual needs so they have positive visits.
I joined the practice in 2009, after finishing a Bachelor of Science in health science and an Associate of Science in dental hygiene. We have a fantastic team, with a very positive energy. Dr. Carmical and Dr. Keisner truly care about what is best for each patient and take the time to explain each procedure and go through the pros and cons of each treatment.
I promote dental health by completing routine dental and periodontal cleanings, placing sealants, fluoride treatments, and screening for oral cancer. A lot of my day focuses on education: It's important that people understand their dental health concerns and how to improve their home care.
Originally from Missouri, I've lived in Arkansas — first in Fayetteville and now in Rogers — with my husband since 2009. We quickly caught the Razorback bug and love watching their games! In December 2016 we were blessed with a baby boy and now our lives revolve around him. We're members of Fellowship Bible Church of NWA and serve in the nursery on Saturday nights. We love spending time with our friends and family and enjoy all that NWA offers.
Andrea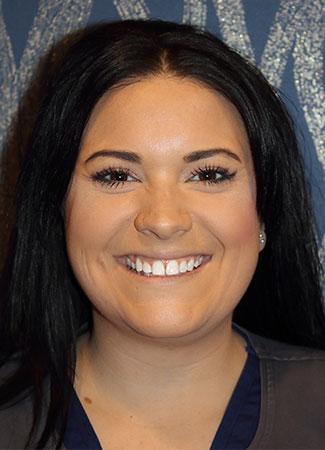 Office Manager
I love meeting our patients and getting to know them and their families. Even the most apprehensive people soon learn that ours is a welcoming, safe office and relax in our care.
I joined the practice in 2016, after graduating from the Accelerated Dental Assistant Academy. Our office environment is very fun and friendly. Since day one, everyone has been helpful in supporting and guiding me, just as they support, guide, and help our patients.
I assist the doctors with patient care, take X-rays, and take alginate impressions and pour up those impressions. I also make custom whitening trays, sterilize instruments, and handle a variety of correspondence and recordkeeping tasks.
I've lived and worked in Bella Vista for more than ten years. I'm married and have a son and daughter, as well as wonderful family dog, Hercules. I love cooking, spending time with close friends and family, and volunteering at my children's schools.
Heather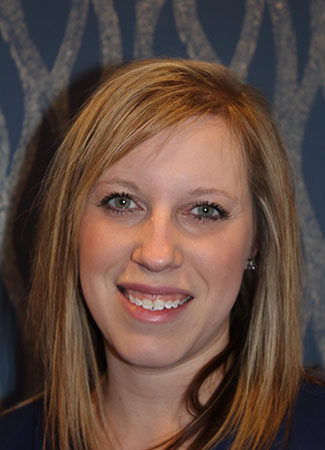 Dental Hygienist
I attended Missouri Southern State University's dental hygiene program from 2005 to 2007 and have worked as a hygienist in NWA since graduating in 2007. I joined Dr. Carmical's office in 2011, where I provide oral hygiene care and make sure patients have all the tools they need to maintain good home care.
Patient care is the most important aspect of my job. I love knowing I've provided a service for them that is improving their oral and overall health. I genuinely cherish the relationships I've developed with my patients throughout the years.
Working with Dr. Carmical and our team is another aspect of my job that I enjoy. I am confident in their recommendations and trust that they provide the best treatment with care and respect. As a whole, our team is awesome!
I have been married to my husband Freddie for more than 15 years and we have two children, Nevaeh and Remington. I enjoy spending time with my family; we love camping, fishing, watching movies, and just being together. I also enjoy doing crafts, reading, and most importantly, staying strong in my faith in God.